Prosecutor Herbert Deimer told a state court in Frankfurt that Uka [an Albanian terrorist from Kosovo] went to the airport with the intent "to kill an indeterminate number of American soldiers, but if possible a large number".
And the Serbian people?
At extraordinary sacrifice, they rescued more than 500 U.S. airmen shot down over Nazi occupied Yugoslavia.  They had been America's ally in both world wars.
And then Bill Clinton, joined by Germany, England, France and other Western powers, decided the Serbian people should be bombed on behalf of Al Qaeda linked terrorists and the Kosovo Albanian mafia…
and they were… for 78 days.
The US-NATO backed Albanian regime in Kosovo are narco-terrorists who were trained in Al Qaeda camps.  As leaders of a large international organized crime syndicate, they are responsible for massive heroin trafficking operation in Europe.
Interpol stated that "Kosovo Albanian Mafia hold the largest share of the heroin market in Switzerland, in Austria, in Belgium, in Germany, in Hungary, in the Czech Republic, in Norway, and in Sweden."
The head of Sweden's anti drug unit believes that the gangs supplied "hundreds, maybe thousands, of kilos of heroin" to the Scandinavian countries. The Albanian Muslim Mafia clans are dispersed in Kosovo and Macedonia as well as Albania proper.
They are also engaged in the sex slave trade and human organ harvesting.
Kosovo's prime minister is the head of a "mafia-like" Albanian group responsible for smuggling weapons, drugs and human organs through eastern Europe, according to a Council of Europe inquiry report on organised crime.
Hashim Thaçi is identified as the boss of a network that began operating criminal rackets in the runup to the 1998-99 Kosovo war, and has held powerful sway over the country's government since.
The report of the two-year inquiry, which cites FBI and other intelligence sources, has been obtained by the Guardian. It names Thaçi as having over the last decade exerted "violent control" over the heroin trade. Figures from Thaçi's inner circle are also accused of taking captives across the border into Albania after the war, where a number of Serbs are said to have been murdered for their kidneys, which were sold on the black market. 
https://www.theguardian.com/world/2010/dec/14/kosovo-prime-minister-llike-mafia-boss

There are five ISIS training camps  in Kosovo and many Albanians have joined ISIS. Albanians have been implicated in numerous terror plots against the United States.
The murder of two American airmen is just one example of Albanian terrorism against the United States, and yet Washington and other Western powers continue to support them and are pushing for the annexation of the Serbian province of Kosovo by Albania.
Read more:
Kosovan Albanian admits killing two US airmen in Frankfurt terror attack
Arid Uka, 21, tells court he was influenced by online Islamist propaganda before shootings at airport in March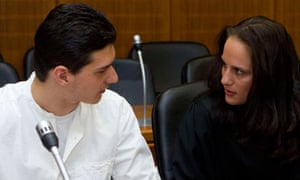 A 21-year-old Kosovan Albanian confessed on Wednesday to killing two US airmen at Frankfurt airport, saying in emotional testimony at the opening of his trial that he had been influenced by Islamist propaganda online.
Arid Uka is charged with two counts of murder for killing Nicholas J Alden, 25, from South Carolina, and Zachary R Cuddeback, 21, from Virginia on 2 March this year. He also faces three counts of attempted murder in connection with the wounding of two others.
Although Germany has suffered scores of terrorist attacks, largely from leftwing groups such as the Red Army Faction, the airport attack was the first attributed to an Islamic extremist.
Since the September 11 2001 attacks there have been about a half-dozen other jihadist plots that were either thwarted or failed, including a plan to kill Americans at the US air force's Ramstein base in 2007.
Prosecutor Herbert Deimer told a state court in Frankfurt that Uka went to the airport with the intent "to kill an indeterminate number of American soldiers, but if possible a large number".
No pleas are entered in the German system and Uka confessed to the killings after the indictment was read, telling the court: "What I did was wrong but I cannot undo what I did."
He went on to urge other radical Muslims not to seek inspiration in his attack, urging them not to be taken in by "lying propaganda" on the internet. "To this day I try to understand what happened and why I did it … but I don't understand."
Uka described becoming increasingly introverted in the months before the attack, staying at home and playing computer games and watching Islamist propaganda on the internet.
The night before the crime, he said he followed a link to a video posted on Facebook that purported to show American soldiers raping a teenage Muslim girl. It turned out to be a scene from Redacted, the 2007 anti-war film by Brian De Palma, taken out of context.
He said he then decided he should do anything possible to prevent more American soldiers from going to Afghanistan. "I thought what I saw in that video these people would do in Afghanistan," he told the court, his voice choking with emotion as he wiped away tears.
Uka conceded when asked by prosecutor Jochen Weingarten that the airman driving the bus had not been going to Afghanistan.
On the bus on the way to the airport to look for victims, he said he listened to Islamic music on his iPod while nursing doubts that would be able to follow through with his plan. "On the one hand I wanted to do something to help the women, and on the other hand I hoped I would not see any soldiers," he told the court.
Six months later, he says he does not understand why he went through with the killings. "If you ask me why I did this I can only say … I don't understand anymore how I went that far."
The indictment says Uka went to the airport armed with a pistol, extra ammunition and two knives. Inside Terminal 2, he spotted two US servicemen who had just arrived and followed them to their US air force bus.
Sixteen servicemen, including the driver, were on or near the bus. Uka approached one of the men for a cigarette, prosecutors said. He confirmed they were US air force members en route to Afghanistan, then "turned around, put the magazine that had been concealed in his backpack into his pistol, and cocked the weapon", the indictment read.
He first shot unarmed Alden in the back of the head, the indictment alleged. He then boarded the vehicle shouting "Allahu Akbar" – Arabic for "God is great" – and shot and killed Cuddeback, who was the driver, before firing at others.
He wounded two others – one victim has lost sight in one eye permanently – before his gun jammed and he fled, prosecutors said. Uka was then chased and caught.
Some of the American airmen are expected to testify at the trial. At least one relative of the victims – Cuddeback's mother – has joined the trial as a co-plaintiff.