Blic is reporting that British Muslim terrorist Khalid Masud (Masood) 52  arrived in Bosnia in May of 1993 where he joined  the notorious 'El Mujahid' as an Islamic 'Holy warrior'.
'El Mujahid' terror unit was under the command of the Muslim Army of Bosnia-Herzegovina backed by President Bill Clinton and armed by the Iranians among others.  It was comprised of foreign Islamic fighters who were responsible for some of the most grisly, horrifying atrocities of the Balkan wars that included the razing of entire Orthodox Christian Serbian villages, torture, and beheadings.  Complicity on the part of the United States, the U.N. and other Western powers was significant.
…Mujahedin fighters were escorted by U.N. peacekeepers "accompanied by US Special Forces equipped with high-tech communications equipment" for the purpose of establishing "a command, control, communications and intelligence network to coordinate and support Bosnian Muslim offensives–with mujahedin and Bosnian Croat Forces." "Offensives"… that were launched  "from within the UN established safehavens…"  
…UN "safehavens" like Srebrenica. 
https://adarapress.com/2015/11/16/bill-clintons-bosnian-jihadi-boys-mujahideen-in-bosnia-el-mujahid-terrorist-unit-islamic-promotional-video/
Khalid Masud (Masood) reportedly fought in Bosnia until December of 1995
In the 1990s the Clinton White House  installed Alija Izetbegovic into power as President of the Bosnia, a republic of the former Yugoslavia.
Lauded, and heavily promoted by Washington and the Western media, as a 'moderate' Muslim, Izetbegovic's background shows he was a hardcore Islamic extremist pursuing "a path of jihad."  His aims were clearly aided by the United States, and other Westerns powers in the Balkans, even as he was on the payroll of Iran:
"In the late 1930s, Izetbegovic and a conspiratorial group of like-minded Islamist extremists formed an organization called the Mladi Muslimani ("Young Muslims"), a Balkan version of the Muslim Brotherhood whose goal, as Izetbegovic himself frequently noted, was the creation of a "great Muslim state," or as one author has described it, an "Islamistan," throughout the Balkans, northern Africa, and the Middle East. Toward this goal, the Mladi Muslimani swore an oath promising perseverance on their "path of jihad" and their "uncompromising struggle against everything non-Islamic." Tellingly, the name of their underground journal was Mudzahid ("Holy Warrior")."
https://adarapress.com/2014/09/10/joining-the-jihad-deadly-blowback-from-bill-clintons-balkan-war-bosnia-leads-europe-in-providing-voluteers-for-syria/
For more on Bill Clinton's Bosnian Jihadi boys see:
https://adarapress.com/2015/11/16/watch-bill-clintons-bosnian-mujahideen-thousands-came-fought-along-side-nato-many-stayed-more-are-coming-bringing-a-new-world-view-jihad-video/
https://adarapress.com/2015/10/31/turkey-and-qatar-flying-islamic-state-isis-commanders-into-sarajevo-in-bosnia/
EXPOSED – Terrorist from London slaughtered Serbs in Bosnia!
[Google Translate]
Boris Knežević |

Boris Knežević |
25. 03. 2017 – 13:19h

25. 03. 2017 to 13: 19h
Radical Islamist Halid Masud, who carried out the terrorist attacks in London, during the war in Bosnia was a member of the "El Mujahid", as the "Euro Blic".
U posedu našeg lista nalazi se spisak imena 1.774 borca "El mudžahida", među kojima se nalazi i ime teroriste koji je pre tri dana u britanskoj prestonici ubio četvoro i ranio 29 ljudi.
In possession of our list is a list of the names of 1,774 fighter "El Mujahid", among which is also the name of terrorists who three days ago in the British capital killed four and wounded 29 people.
Odlično obavešteni izvori "EuroBlica" iz obaveštajno-bezbednosnih struktura otkrivaju da je okrutni terorista, koji je svojim zlodelom šokirao svet, kao islamski "sveti ratnik" u BiH došao 1. maja 1993, kada se priključio arapskim borcima iz zloglasnog odreda koji se nalazio pod komandom Trećeg korpusa tzv.
Excellent informed sources "EuroBlic" from intelligence and security structures reveal that ruthless terrorists, whose atrocities shocked the world, as an Islamic "holy warrior" in BiH came to 1 May 1993, when he joined the Arab fighters from the notorious Detachment which was under the command of the third Corps of the so-called. Armije BiH. Army of BiH.
– Rođeni Britanac Edrijen Rasel Adžao početkom devedesetih godina primio je islam i dobio ime Halid Masud. – born Briton Adrienne Russell Adza early nineties received Islam and named Halid Masud. Postoje brojni dokazi da su izvršioca terorističkog napada u Londonu, kao i brojne druge britanske državljane, početkom poslednje decenije prošlog veka radikalizovale poznate vehabijske vođe Abu Hamza al Misri i Omar Bakri Muhamed.
There is ample evidence that the perpetrators of the terrorist attacks in London, as well as many other British citizens beginning of the last decade of the last century radicalized known Wahhabi leader Abu Hamza al Misri and Omar Bakri Mohammed.
Reč je o ljudima koji su početkom građanskog rata u BiH odigrali presudnu ulogu u formiranju zloglasnog odreda "El mudžahid", koji je delovao u sklopu Trećeg korpusa tzv.
These are people who are at the beginning of the civil war in Bosnia-Herzegovina played a crucial role in the formation of the infamous of "El Mujahid", which operated as part of the so-called Third Corps. Armije BiH i koji se "proslavio" stravičnim zločinima nad zarobljenim srpskim civilima i vojnicima – ističu naši izvori.
Army of BiH and which are "celebrated" the horrible crimes committed against Serbian civilians and captured soldiers – underline our sources.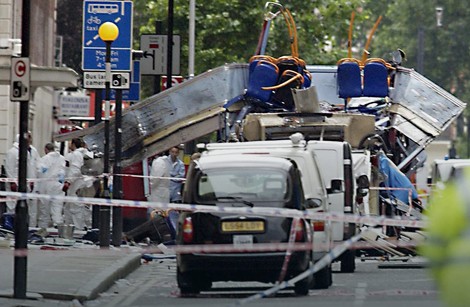 Oni dodaju da se imena Masudovih verskih "učitelja" pominju u gotovo svim spisima tužilačkih i istražnih organa RS i BiH, koji su odmah posle potpisivanja Dejtonskog sporazuma krenuli u istraživanje zločina koje su počinili pripadnici odreda "El mudžahid".
They added that the names Masudovih religious "teachers" are mentioned in almost all the writings of prosecutorial and investigative bodies of the RS and BiH, who immediately after the signing of the Dayton Agreement began exploring the crimes committed by members of the "El Mujahid".
– Abu Hamza al Misri je egipatski državljanin koji je došao u BiH odmah nakon izbijanja rata i obučavao mudžahedine i arapske dobrovoljce u Jablanici kod Tešnja. – Abu Hamza al Misri is an Egyptian citizen who came to BiH immediately after the outbreak of the war and trained the Mujahideen and the Arab volunteers in Jablanica near Tešanj.
Postoje brojni dokazi da je on lično naredio ubistvo i obezglavljivanje trojice zarobljenih srpskih vojnika na Crnom vrhu kod Tešnja, čije su fotografije obišle ceo svet.
There is ample evidence that he personally ordered the murder and beheading of three captured Serbian soldiers in the Black top near Tesanj, whose picture went around the world.
Što se tiče Sirijca Omara Bakrija Muhameda, on je za vreme rata bio zadužen za dovlačenje arapskih dobrovoljaca u odred "El mudžahid", o čemu se kasnije otvoreno hvalisao u brojnim medijima.
As for the Syrian Omar Bakri Mohammed, he was during the war was responsible for the retrieval of Arab volunteers in the detachment "El Mujahid", which later bragged openly in many media.
I jedan i drugi su se početkom 2000. godine preselili u Veliku Britaniju, gde su nastavili sa svojim ekstremističkim učenjem i mobilizacijom budućih terorista.
Both at the beginning of 2000 moved to Britain, where they continue with their extremist teachings and mobilization of future terrorists.
Zbog toga je Al Misri pre nekoliko godina završio u zatvoru, dok je Bakri Muhamed uspeo da pobegne u Liban – otkrivaju izvori našeg lista.
Therefore, the Al Misri a few years ago went to prison, while Bakri Mohammed managed to escape to Lebanon – reveals the source of our list.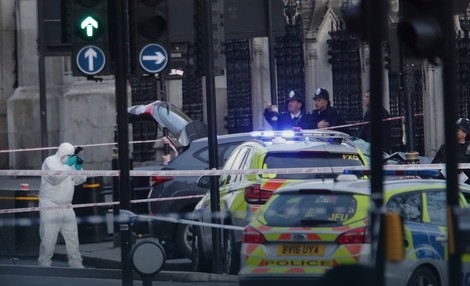 Član Ekspertskog tima jugoistočne Evrope za borbu protiv terorizma Dževad Galijašević za naš list takođe tvrdi da je prema podacima s kojima raspolaže terorista Halid Masud za vreme rata u BiH bio pripadnik "El mudžahida".
Member of the expert team of Southeast Europe to combat terrorism Dzevad Galijašević for our magazine also claims that according to the disposal of terrorists Halid Masud during the war in Bosnia was a member of "El Mujahid".
– Ubica iz Londona je u maju 1993. u BiH došao s istim imenom koje je nosio do pre tri dana, kada ga je likvidirala britanska policija. –
The killer from London in May 1993 in BiH came with the same name, which was carrying up to three days ago, when it was liquidated by British police.
Uz ime Halid Masud tada je imao još dodatak Abdula, koji su koristili brojni pripadnici "El mudžahida". With the name Halid Masud then had another addition Abdullah, who used a number of members of the "El Mujahid". Iz BiH je otišao tek 25. decembra 1995.
From BiH went until 25 December 1995.
Inače, zanimljivo je da su gotovo svi veliki teroristički napadi u Evropi i SAD imali neku vezu sa BiH.
Otherwise, it is interesting that almost all major terrorist attacks in Europe and the United States have had a relationship with the country.
Ili su teroristi učestvovali u ratu u BiH, kakav je bio slučaj sa napadom na SAD 11. septembra 2001, ili su imali državljanstvo BiH, kao u napadu na Madrid 2004.
Or the terrorists involved in the war in BiH, as was the case with the attack on the US on 11 September 2001, or had citizenship of BiH, as well as in the attack on Madrid 2004.
U drugim slučajevima je, pak, dokazano da su koristili oružje nabavljeno u BiH, kao što je to bilo prilikom napada na Pariz i Brisel. In other cases, however, proven to have used a weapon purchased in BiH, as it was during the attack on the Paris and Brussels.
To je nasleđe koje nam je ostavila politika Alije Izetbegovića i SDA, koji su belosvetski šljam i psihopate raznih vrsta doveli da ovde stvaraju islamsku državu.
This is the legacy that she left policy of Alija Izetbegovic and the SDA, who belosvetski scum and psychopaths of various kinds brought here to create an Islamic state.
Poslednji teroristički napad u Londonu samo je još jedan u nizu dokaza gde nas je dovela takva politika – kaže Galijašević.
The last terrorist attack in London is just another in a series of evidence which has led us such a policy – says Galijašević.
Mahmuljinova odgovornost MAHMULJIN responsibility
Za zločine pripadnika odreda "El mudžahid" trenutno se pred Sudom BiH vodi postupak protiv ratnog komandanta Trećeg korpusa tzv.
For crimes of members of the "El Mujahid" currently before the Court the case against wartime commander of the Third Corps of the so-called. Armije BiH Sakiba Mahmuljina. Army of Bosnia and Herzegovina Sakib Mahmuljin.
Njemu se stavlja na teret da ništa nije preduzeo da spreči svirepa ubistva najmanje 50 zarobljenih srpskih civila i vojnika u Vozući.
He was charged did nothing to prevent the cruel murder of at least 50 Serbian civilians and captured soldiers in Vozuća.
Osim Mahmuljina, pravosuđe BiH dosad nije procesuiralo nijednog od odgovornih za zločine odreda "El mudžahid".
Mahmuljin In addition, the BiH judiciary has not prosecuted any of those responsible for the crimes of the "El Mujahid".
https://translate.google.as/translate?hl=en&sl=sr&u=http://www.blic.rs/vesti/svet/otkrivamo-terorista-iz-londona-klao-srbe-u-bosni/g9z6qtm&prev=search