Inspired by a recent post about Jews.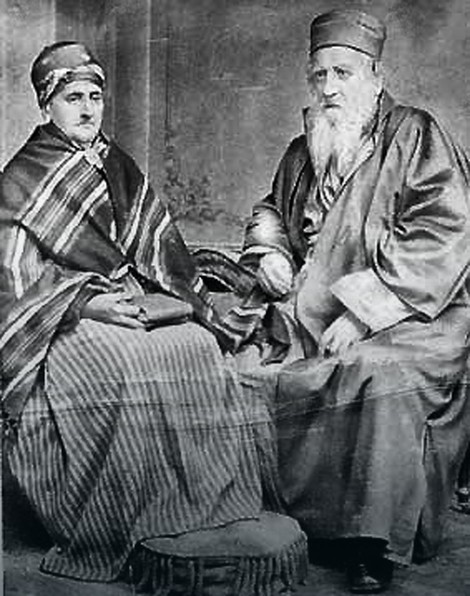 Jehuda Alkalaj (photo above), a Sephardic rabbi and writer, whose ideas are considered to be the forerunners of Zionism, was born in the city of Sarajevo (Bosnia) in 1798, and moved into the town of Zemun (Austria back then, modern day Serbia) in 1825. There, he built a Sephardic synagogue, and conceived the idea of Jewish return to the Holy Land. He founded a society for returning to the Holy Land in 1840, and its members were gathering in the capital of Serbia, Belgrade, and in the Serbian town of Šabac. Theodor Herzl continued Jehuda's work in Budapest (Austria-Hungary), and is regarded as the founder of Zionism.
Serbian Prince Miloš Obrenović (1780-1860, pictured above) had a close Jewish friend David. Turkish pasha called Miloš once to visit him in the Belgrade fortress, but Miloš's friend David advised him not to come, which proved to be a good decision, because it was revealed later that the pasha wanted to assassinate him. Since then, Miloš gave David a nickname Davičo from the grace for saving his life, which David's descendants adopted as their family name. Prince Miloš was a great protector of Jews, granting Jewish traders special rights and privileges.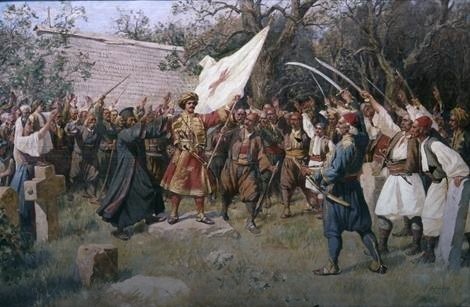 The roots of Serbian-Jewish friendship date from the rule of Prince Miloš Obrenović (1815-39, 1858-60) and the Second Serbian Uprising (1815, pictured above, with Prince Miloš waving his flag). Jews from Austria provided strong support to the Serbian rebels against the Ottoman Turks. It is believed that the Second Serbian Uprising gave an inspiration to the Austrian Jews that if Serbs were capable of regaining their Fatherland from the Ottoman Turks, then the Jews could achieve the same.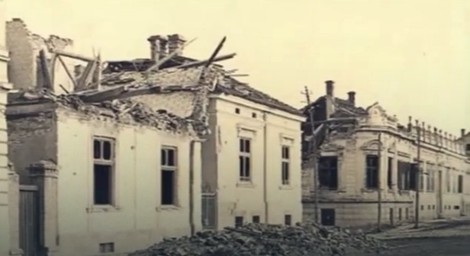 Jewish neighborhood in Belgrade, Jalija (photo above), after the Austro-Hungarian shelling in 1914. Serbs and Jews shared the same shelter and food and fought the same enemy together during the World War One.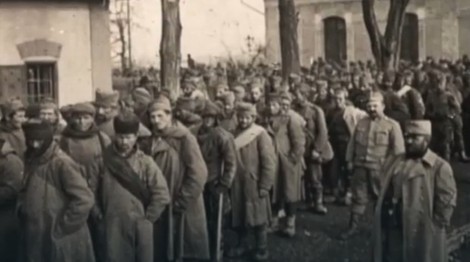 Serbs and Jews in Austro-Hungarian captivity (photo above). They fought together, died together, and won the war together.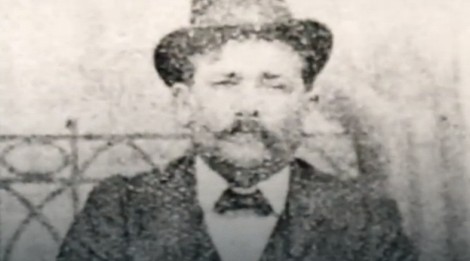 Danilo Albahari (photo above), a forwarder. Being very old and ill, the Austro-Hungarians offered him to present himself as a Bulgarian Jew, in order to avoid the captivity. He then straightened up from his chair with difficulties, and replied to them with pride: "I am a Serbian Jew!" Jewish youth gathered in the old synagogue, from where they joined the Serbian army first rows, with motto: "The face of Belgrade is bright!" Jewish Major Avram Berah took the command over a regiment, which fought heroically, and he was awarded with highest decorations.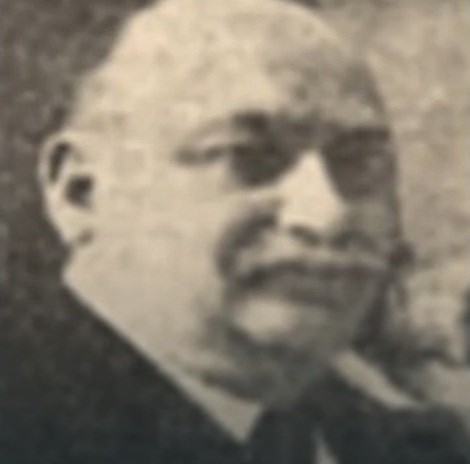 The chief of the ministry of finance of the Kingdom of Serbia was a Jew, Avram Lević (photo above). Retreating from the invading German, Austro-Hungarian, and Bulgarian troops, alongside with the gold, paper money, and important documents, he secured the evacuation of the precious Serbian Orthodox Christian treasure, of which the most important was the oldest preserved book written in Serbian Cyrillic script, The Gospel of Prince Miroslav from 12th century. It was shipped from Albanian coast to France. After the ships sailed, Austria-Hungary sent a bomber to sink them. It happened that the pilot was an Austro-Hungarian Serb, and miraculously no ships were hit.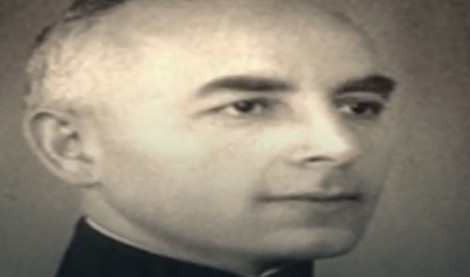 Dr David Albala was a Serbian Captain during the war, an another highly decorated officer. He was working as a medical doctor on a ship, which was a very lucrative job back then. At the beginning of the First Balkan War (1912-13), he left his job in order to join the Serbian army, where he participated in both Balkan Wars and First World War as a military doctor. In 1917, Serbian government sent him to the United States in a diplomatic mission, when he managed to gather a million dollars of war loans. He was working on promoting the Serbian war goals among the American Jewry. His wife, Paulina Lebl Albala, who was the chief of the organization of university graduated women in Belgrade, also helped him, alongside with the religious leader of Serbian Jews, rabbi Isak Alkalaj, who also travelled to the United States to gather help.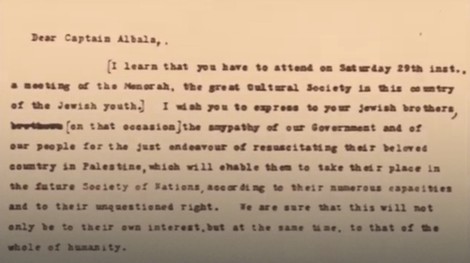 Kingdom of Serbia was the first country after United Kingdom to officially support the creation of Jewish state. Serbian ambassador in Washington sent a letter (pictured above) to Captain Albala, in which he stated: "I wish you to express to your Jewish brothers the sympathy of our Government and of our people for the just endeavor of resuscitating their beloved country in Palestine which will enable them to take their place in the future Society of Nations according to their numerous capacities and to their unquestioned right. We are sure that this will not only be to their own interest, but at the same time to that of the whole of humanity. You know, dear Captain Albala, that there is no other nation in the world sympathizing with this plan more than Serbia. How should we not participate in your clamors and sorrows lasting ages and generations, especially when our countrymen of your origin and religion have fought for their Serbian fatherland as well as the best of our soldiers? It will be a sad thing for us to see any of our Jewish fellow-citizens leaving us to return to their promised land, but we shall console ourselves in the hope that they will stand as brothers and leave with us a good part of their hearts and that they will be the strongest tie between free Israel and Serbia." The Serbian letter marked the first time any government had referred to the yet-to-be-born Jewish state as "Israel," presaging the name that would be adopted by the nascent republic three decades later.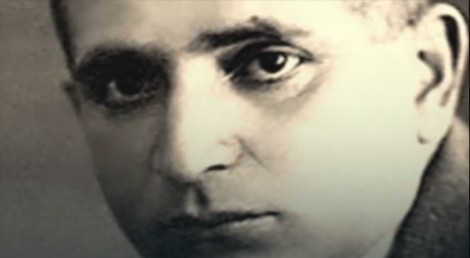 Serbian poet of Jewish origin, Stanislav Vinaver (photo above), a Lieutenant in Serbian army during the war, lead the last company of Yugoslav volunteers from Russia. Their train was passing over recently defeated Bulgaria. During a two-hour stop in Sofia, capital of Bulgaria, the soldiers were strictly forbidden to leave their wagons. But, using Bulgarian lack of vigilance, he ordered his company to leave the train, and then he lead them to the city, marching with military step towards the church of Holy Sunday, where the sacred relics of Medieval Serbian King Milutin (1282-1321) were placed, to pay them omage. Bulgaria then asked for their punishment for breaking the peace treaty provisions, but was rejected.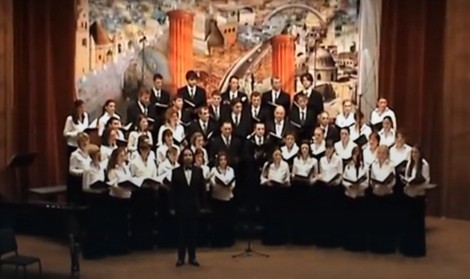 Serbian-Jewish glee club founded in Belgrade in 1879, called "Baruh Brothers Choir" since 1952, is the oldest Jewish choir in Europe (photo above). They perform songs in Hebrew, Yiddish, and Ladino languages.
[Taken from (not in English, sorry): http://www.blic.rs/riznica/istorije/10-cinjenica-o-jevrejsko-srpskom-prijateljstvu/qzxzwlx.]
\http://conservativepoliticalforum.com/history/some-facts-about-jewish-serbian-friendship/