And so begins another violent pogrom against Serbs in their own homeland by US trained, Albanian Fascist Forces.
Armed, masked Albanians, some screaming "Allahu Akbar" raided a peaceful meeting of Serbs in the town of Mitrovica in the southern Serbian province of Kosovo.  Serbian civilians were brutally beaten, dragged out into the street; Serbian diplomat Marko Djuric was arrested, and taken to Pristina by Albanians.
Holding Djuric's head down with their feet, members of the Albanian special unit took selfies, as trophy shots.
Among the issues being discussed at the meeting was the brutal murder of Oliver Ivanovic in broad daylight in January.
Thanks to the illegal 78-day bombing campaign led by the United States and Germany in 1999, the Serbian province of Kosovo is now under Muslim Albanian occupation; Narco-terrorists, and human organ traffickers were installed into power by Bill Clinton and other Western powers resulting in the murder, and expulsion of most of indigenous Serbs of the region, and the wanton destruction of centuries-old Serbian Orthodox Churches, cemeteries, and other sacred Christian sites and monuments.
As is their legal, sovereign right under international law, some Serbs cling to their sacred, ancestral homeland, despite Albanian discrimination and violent persecution.
Those Serbs attempting to return to their homes in Kosovo are regularly subject to "arrest and intimidation".
Another Brutal Attack on Serbs in Kosovo, and Nothing
What else needs to happen before EU gets involved and slaps Pristina on the wrist?
The arrest of the director of the KiM Office, Marko Djuric, is just another in the sea of ​​things that Pristina authorities, enjoying the support of powerful allies, clearly go without consequences.Još jednom je dokazano da Priština može da radi šta joj padne na pamet, a da od međunarodne zajednice zbog toga neće trpeti nikakve posledice, ni sankcije. Once again, it has been proven that Pristina can do what comes to its mind, and that the international community will not suffer any consequences or sanctions.
Na spisku stvari koje im prolaze nalazi se i ubistvo lidera GI SDP Olivera Ivanovića, čiji počinioci a još manje nalogodavci, ni posle više od dva meseca nisu otkriveni, a nismo čuli ni da su prikupljeni bilo kakvi ozbiljni dokazi, iako se sve dogodilo usred dana. The list of things they are going through is the murder of the leader of the GI SDP Oliver Ivanovic, whose perpetrators and even less the orderers, even after more than two months, were not discovered, and we did not hear that any serious evidence was collected, although everything happened in the middle of the day .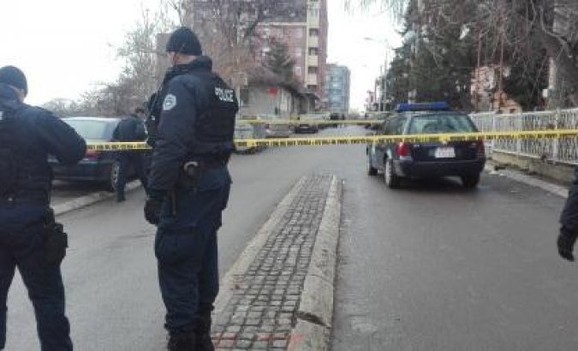 Takođe, Zajednica srpskih opština (ZSO) nije formirana pet godina, iako se Priština na to obavezala, dok su opstrukcije i inicijativa za ukidanje Suda za zločine počinjene na KiM tokom devedesetih dovele do toga da Kosovo dobije "packe", ali ipak ne pretrpi ozbiljnije posledice zbog pokušaja ukidanja ove institucije. Also, the Association of Serb Municipalities (ZSO) was not formed for five years, although Pristina committed itself to it, while obstruction and initiative for the abolition of the Court for crimes committed in Kosovo during the 1990s led to Kosovo getting "packe", but it did not suffer more seriously the consequences of trying to abolish this institution. Hapšenje i zastrašivanje srpskih povratnika postaje praksa, dok su Srbi koji žive u južnoj srpskoj pokrajini diskriminisani, a neretko i na meti Albanaca koji bi uništavanjem imovine da im pokažu da nisu dobrodošli. The arrest and intimidation of Serbian returnees is becoming a practice, while Serbs living in the southern Serbian province are discriminated against, and often also targeted by Albanians who would, by destroying property, show them that they are not welcome.
Dokle će takva situacija da potraje, i šta još treba da se desi da bi se stvari promenile, niko sa sigurnošću ne može da kaže. As long as such a situation persists, and what still needs to happen to make things change, no one can say with certainty. Sagovornici "Blica" saglasni su u tome da krivicu treba tražiti "u trouglu" Beograd – Priština – Brisel. The Blica interlocutors agree that the blame should be sought "in triangle" Belgrade – Pristina – Brussels. Osim toga, kažu, Kosovo ima ono što Srbija nema, moćne zaštitnike koji im ovakvo ponašanje omogućavaju. In addition, they say, Kosovo has what Serbia does not have, powerful protectors that enable them to do this.
– Kosovo je očigledno na strani koja im omogućava ovakvo ponašanje. – Kosovo is obviously on the side that allows such behavior. Međutim, pitanje je "gde smo mi", ako osećamo da smo nevini. However, the question is "where are we," if we feel we are innocent. Zna se da od devedesetih godina ovo nije bilo "takmičenje u pevanju", nego za širenje NATO. It is known that since the 1990s this was not a "singing contest", but for the expansion of NATO. On je već u Albaniji, Kosovo je "dobrovoljni" član i oni se, svidelo se to nama ili ne, nalaze na pobedničkoj strani. He is already in Albania, Kosovo is a "voluntary" member and they, whether they like it or not, are on the winning side. Sa druge strane, mi nismo ni sa Rusima, nismo ni skroz gubitnici, i navodno smo neutralni. On the other hand, we are not even with the Russians, we are not completely losers, and we are supposedly neutral. Ovo što se desilo bilo je odmeravanje snaga, jer je za sve što je urađeno Kosovo imalo podršku i NATO i Kfor-a – kaže Dušan Janjić iz Foruma za etničke odnose. What happened was a gauge of strength, because for all that Kosovo was doing, NATO and KFOR had the support, Dusan Janjic from the Forum for Ethnic Relations says.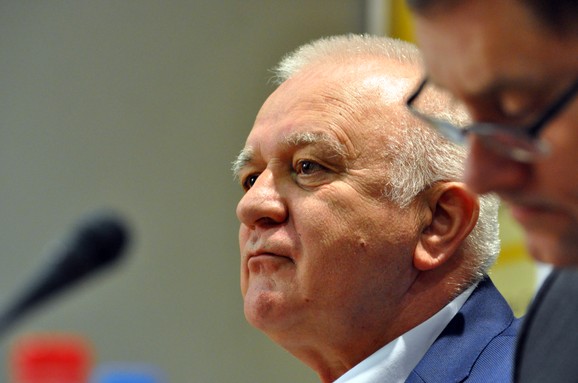 On pita da li će Srbija "večno biti Kalimero", ili će preispitati poziciju. He asks whether Serbia "will be Kalimero forever", or will reconsider the position.
– Sa jedne strane mi vodimo anti-NATO politiku zahvaljujući pojedinim ministrima u vladi, dok sa druge glumimo vojnu neutralnost. – On the one hand, we are leading anti-NATO policies thanks to certain ministers in the government, while on the other hand we are acting in a military neutrality. Sve ovo što se dešava je posledica nadgornjavanja sa onima sa kojima ne bi to trebalo da činimo. All that is happening is the consequence of uproar with those with whom we should not do it. Juče smo imali situaciju da na terenu odmerimo čija je teritorija, i oni su nam batinama pokazali čija je – navodi on, i ističe da bi se u tom smislu jučerašnji događaji mogli tumačiti i kao pokušaj Hašima Tačija da pokaže da nikada nije razgovarao o podeli teritorije, "mada mu ne verujem". Yesterday, we had a situation in which we measured the territory on the ground, and they showed us the beatings, which – he said, and emphasizes that yesterday's events could be interpreted as an attempt by Hashim Thaci to show that he never talked about the division of territory , "Although I do not believe him".
Na pitanje šta još treba da se desi da prištinska strana pretrpi bilo kakvu posledicu zbog svog ponašanja, novinarka i urednica portala Kossev iz Kosovske Mitrovice Tatjana Lazarević kaže "ništa". Asked what else should happen to the Pristina side to suffer any consequences due to its behavior, Tatiana Lazarevic, a journalist and editor of Kossev portal from Kosovska Mitrovica, says "nothing".
– Na terenu je od početka Briselskog procesa i izbora 2013. godine potpuna destabilizacija. – A complete destabilization has been on the ground since the start of the Brussels Process and the elections in 2013. Tada smo imali ubistvo jednog, privođenje drugog, hapšenje trećeg kandidata. Then we had the murder of one, the arrest of another, the arrest of a third candidate. Sve što se dešava od tada do danas su posledice toga, i ovo je samo jedna epizoda koja najavljuje neku drugu. Everything that has been happening since then has the consequences of it, and this is just an episode that announces someone else. Ovde je jedna realnost, au Briselu druga – kaže ona. There is one reality here, and in Brussels the other – she says.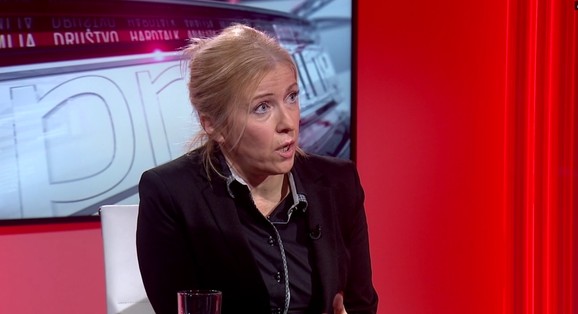 Odgovornost je, kaže, na svima: od Beograda, preko Prištine, do Brisela. Responsibility is, say, in everyone: from Belgrade, through Pristina, to Brussels.
– Ona ide na pregovarače, na vlade, političke timove, međunarodnu zajednicu jer svi prave neku mlaku, veštačku ujdurmu oko Briselskog procesa, au realnosti smo imali ubistvo, u ovome što se juče desilo mogao je neko smrtno da strada – priča ona. "She goes to negotiators, governments, political teams, the international community, because they all make a lukewarm, artificial turmoil over the Brussels process, but in reality we had a murder, in what happened yesterday someone could be deadly," she says.
Kosovo, "ljubimče" Zapada Kosovo, the "lover" of the West
Zapad neće da "poništi svoje ljubimče", kaže poslanik u Skupštini Srbije i bivši ministar za KiM Goran Bogdanović. The West will not "annul its lover", says a deputy in the Serbian Parliament and former Minister of Kosovo Goran Bogdanovic. On krivicu za sva ova dešavanja vidi u međunarodnoj zajednici, ali iu Beogradu i Prištini. He sees the blame for all these events in the international community, but also in Belgrade and Pristina.
– Treba imati na umu da je nezavisno Kosovo projekat Zapada, i kako će sada on protiv njega. – It should be kept in mind that Kosovo's independent Kosovo project, and how it will now be against it. Sa druge strane, Albanci su svesni da imaju vlast u Beogradu, koja pet godina od potpisivanja briselskog sporazuma nije uradila skoro ništa, jer nije uspela da sa međunarodnom zajednicom izdejstvuje podršku za bilo šta – kaže on. On the other hand, the Albanians are aware that they have power in Belgrade, which has not done almost anything since the signing of the Brussels agreement, because it failed to work with the international community for anything, "he says.
Naravno, navodi, krivica je i na međunarodnoj zajednici koja ne vrši nikakav pritisak. Of course, she alleges, she is also guilty of an international community that does not exert any pressure. Odatle, kaže, "imamo opstrukciju suda za OVK, ne zna se ko su nalogodavci Ivanovićevog ubistva, imamo ovo što se juče desilo…". From there, he says, "we have an obstruction of the KLA court, we do not know who the perpetrators of Ivanovic's murder are, we have what happened yesterday …".
– Albanci su u svemu možda i najmanje krivi jer uzimaju sve što mogu i koriste sve kako bi dokazali i pokazali celovitost "svoje države" – priča on. – The Albanians are perhaps the least guilty because they take everything they can and use to prove and demonstrate the integrity of their "state" – he says.
Hapšenje Marka Đurića bila je poslednja, incidentna stvar koja se desila na severu KiM, i dodatno zaoštrila i onako loše odnose između Beograda i Prištine koji tapkaju u mestu jako dugo. The arrest of Marko Djuric was the last, incidental event that occurred in the north of Kosovo, and further aggravated the poor relations between Belgrade and Pristina that have been tapping in place for a very long time.
Iako su se jedno vreme razgovori između dve strane intenzivirali, i činilo se da dolazi do nekakvih dogovora, sve je palo u vodu kada su ti razgovori, po pokroviteljstvom EU, prekinuti i nisu održani više od godinu dana. Although the talks between the two sides intensified for some time, and there seemed to be some sort of agreement, everything went into the water when those talks, under the auspices of the EU, were interrupted and not held for more than a year. Oni su u poslednjih mesec dana, čini se, intenzivirani, ali za sada bez konkretnih rezultata. They have been intensified in the last month, but for now without concrete results.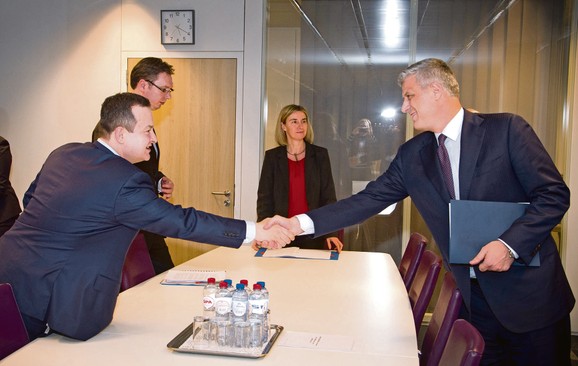 Ubistvo Olivera Ivanovića je takođe jedna od stvari koja je, za sada, bez epiloga. The murder of Oliver Ivanovic is also one of the things that, for now, is without an epilogue. Iako su prištinske vlasti insitirale na tome da one vode istragu i da ne dozvoljavaju mešanje sa strane, ništa ni po ovom pitanju nije urađeno. Although the Pristina authorities have insisted that they conduct an investigation and that they do not allow foreign interference, nothing has been done in this regard. Ivanović je ubijen 16. januara, ai danas su poznate samo one stvari za koje se i tada znalo. Ivanovic was killed on January 16th, and today only those things that were known at that time are known.
Formiranje ZSO je posebna priča, koja je dogovorena još 2013. godine. Forming the ZSO is a special story, which was agreed in 2013. Danas, pet godina kasnije, ona je i dalje samo "slovo na papiru", jer se bukvalno ni korak nije odmaklo u njenom formiranju. Today, five years later, it is still only a "letter on paper," as literally no step has been made in its formation.
Osim ovih stvari, posebna je tema hapšenje Srba povratnika na KiM pod raznim optužbama, koje su danas uglavnom bez epiloga. In addition to these issues, the special topic is the arrest of Serb returnees in Kosovo under various charges, which are mostly without epilogy today.
VIDEO: Četiri sata agonije za Marka Đurića VIDEO: Four hours of agony for Marko Djuric