Ukraine: Dozens killed in building fire in Odessa, ministry says
Building with pro-Russia protesters inside engulfed in flames
Fire followed street clashes between two sides
Obama: Russia's actions a 'challenge' to peaceful Europe
Merkel: sectoral sanctions next if 25 May elections disrupted
'Many' separatists killed in Slavyansk, Turchynov says
Two Ukrainian troops killed as two helicopters downed
Read the latest blog summary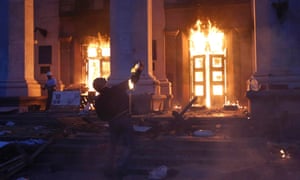 Summary
We're going to wrap up our live blog coverage for the day. Here's a summary of where things stand:
• After months of low-level clashes in Ukraine, the crisis broke into widespread lethal violence Friday, with dozens of fatalities in the country's deadliest day since the ouster of president Viktor Yanukovych in February.
• The Ukrainian interior ministry reported that 31 people were killed in a fire at the Odessa trade union building, where pro-Russia protesters had taken cover after street clashes with a pro-Kiev crowd. An unknown number of others were killed in the fighting in the streets.
• Both sides in the Odessa clashes were armed with bats, stones, homemade explosives and more, Howard Amos reported from the scene. He said the pro-Russia side fired live ammunition and threw stones from the roof of the trade union building.
• Earlier Friday, a Ukrainian military offensive on the opposition-held town of Slavyansk left an unknown number of separatists dead. Moscow called the Ukrainian military operation a criminal act.
• The Ukrainian government reported that at least four military members died, including two when separatists downed two military helicopters, in at least one case reportedly with a surface-to-air missile.
• In an appearance at the White House with German chancellor Angela Merkel, US president Barack Obama warned that "Russia's actions in Ukraine pose a direct challenge to the goal… [of] a Europe that is whole, free and at peace."
• Merkel and Obama warned of "sectoral sanctions" on Russia to come if the planned 25 May Ukrainian elections were disrupted. "This is not necessarily what we want, but we are ready and prepared to go to such a step," Merkel said.
• Merkel and Obama decried the continued detention of seven OSCE observers by pro-Russia forces in Slavyansk. "It is disgraceful and it is inexcusable," Obama said. "Russia needs to work to secure their immediate release."
• In an emergency UN security council meeting, the US ambassador accused Russia of "looking for a pretext to invade" Ukraine. Her Russian counterpart accused Kiev of "criminal misadventures."
• Russia's actions in Ukraine "shatter that myth" of permanent peace in Europe "and usher in bracing new realities," US defense secretary Chuck Hagel said, calling on Nato to increase its military preparedness.
Reporter Howard Amos continues to report from the scene of the Odessa fire. "Just spoke to a mother and father who came to see what was happening and found the dead body of their 17 year old son lying in the street," he tweets.
"For decades former Nazis and German war criminals served at the highest echelons of NATO.
Most of them were highly decorated Nazis, who later served in top positions in the Western German army, and were later promoted to serve as Commander and Chief of all NATO forces in Europe.
This was not a unique event, but a very common phenomenon in post WW2 western Europe and especially in Western Germany." Continue reading →