Serbian police are reportedly engaged in an intensive manhunt for prominent ISIS member Abdul Baset el Sarotom, known as "an icon of the Syrian Spring". 
"Hello!": A member of ISIS secret channels came to Serbia, hiding in Belgrade!  [google translate]
Alo!

Hello!
| 16.

| 16th
09. 2016 – 09:28h

09. 2016-09: 28h
Kako piše list "Alo!", srpska policija već nekoliko dana intenzivno traga za Abdulom Basetom el Saroutom iz Sirije, istaknutom pripadniku ISIS-a, za kojeg se veruje da je ilegalnim kanalima sa migrantima ušao u našu zemlju i da se trenutno krije na teritoriji Beograda. According to newspaper "Alo!", Serbian police for several days in an intensive search for Abdul Baset el Saroutom from Syria, a prominent member of ISIS, who is believed to have illegally entered with migrants in our country and that is currently hiding in the territory Belgrade.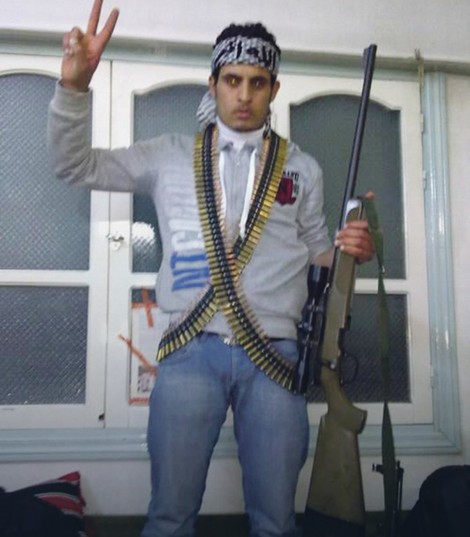 Sarout se smatra liderom sirijskih pobunjenika u svom rodnom gradu Homsu, a mnogi ga opisuju i kao "ikonu sirijskog proleća", pošto se radi o veoma popularnom Sirijcu koji je bio golman u nekadašnjoj fudbalskoj reprezentaciji ove zemlje. Sarout is considered the leader of the Syrian rebels in his hometown of Homs, with many describing it as "an icon of Syrian spring" because it is a very popular Syrian who was a former goalkeeper in a football team of this country. Upravo zbog toga su mu dali nadimak "Čuvar Revolucije". That's why they gave him the nickname "Guardian of the Revolution."
– Niko još ne zna kako je ušao u našu zemlju i došao do Beograda. – No one knows how he got into our country and came to Belgrade. Prema podacima kojima raspolažemo, radi se o važnom članu terorističke organizacije ISIS. According to the information available, it is an important member of a terrorist organization ISIS. Ne zna se ni da li je naoružan, niti da li je u našoj zemlji po nekom specijalnom zadatku, ni da li mu je namera da nastavi dalje – objašnjava dobro obavešteni izvor "Alo!". It is not known whether it is armed or whether it is in our country on some special assignment, or whether his intention to continue – explains a well-informed source "Alo!".
Abdul je inače bivši golman sirijske reprezentacije i kluba Karama, a na samom početku pobune u Siriji priključio se snagama opozicije. Abdul is a former goalkeeper of the Syrian national team and club Karama, and at the beginning of the revolt in Syria joined the opposition forces. Bio je njihov istaknuti aktivista i upravljao je vojnim akcijama naoružanih snaga opozicije. It was their prominent activists and managed the military actions of armed opposition forces.
Međutim, priključio se ISIS-u nakon što je optužio opoziciju da je izdala sirijsku revoluciju. However, he joined the ISIS after accusing the opposition of betraying the Syrian revolution. Zbog svoje popularnosti i borbe protiv režima u Siriji, o njemu su snimani i brojni filmovi. Due to its popularity and the fight against the regime in Syria, about him were shot numerous films. Jedan od njih je "Povratak u Homs", dokumentarac iz 2013. One of them is the "Back to Homs," a documentary from 2013.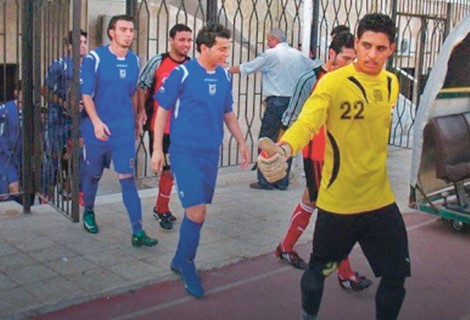 Niko od njegovih prijatelja ne zna gde se on nalazi jer, kako prenose arapski, ali i svetski mediji, s vremena na vreme se javi telefonom. None of his friends did not know where he is, because, as transfers Arabic, and international media from time to time to answer the phone. Često se spekulisalo i da je mrtav, ali je to uvek demantovano nekom njegovom fotografijom ili video-porukom na internet kanalima. It is often speculated that he was dead, but he always denied his photograph or a video message on the internet channels. Poslednje informacije govore da je u Srbiji. Recent information suggests that it is in Serbia.
Ubili mu četiri brata They killed his four brothers
Sva četiri njegova brata su ubile sirijske snage bezbednosti. All four of his brothers were killed by Syrian security forces. Njegov stric Mohe Eden el Sarout ubijen je u novembru 2011. godine u Homsu. His uncle Mohe el Eden Sarout was killed in November 2011 in Homs.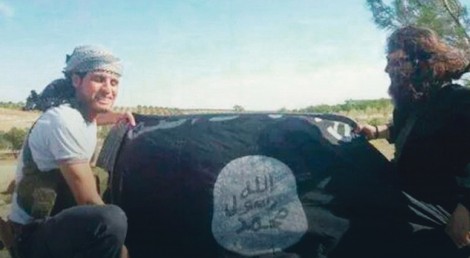 Preživeo tri atentata He survived three assassination
Prema pisanju svetskih medija, šerijatski sud tražio je u martu ove godine od Abdula Sarouta da se preda kako mu ne bi sudili u odsustvu, što je on odbio da uradi. According to international media, sharia court had in March this year from Abdul Sarouta to surrender as he would not have tried in absentia, which he refused to do. Dosad je preživeo najmanje tri atentata. He has survived at least three assassination.
https://translate.google.as/translate?hl=en&sl=sr&u=http://www.blic.rs/vesti/svet/alo-pripadnik-isis-tajnim-kanalima-usao-u-srbiju-krije-se-na-teritoriji-beograda/q8hy9f5&prev=search